Fall Harvest Fair
The Schaeffer Farm comes alive September 12-13 with fruits of the harvest. Enjoy period artisans, crafts, cooking, baking, cider-pressing, field and farm-life demonstrations, traditional entertainment, and more! Get details.
John R. Dale Wood Dioramas Exhibit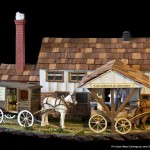 Come and see these beautifully detailed, historical dioramas depicting early Pennsylvania-German life, on display in the Gemberling-Rex House off the square in Schaefferstown. Experience folk life through John R. Dale's intricate carvings that he called "wood stories". Some of the carvings on display include scenes of a kitchen garden, harvest time, a general store and Halloween pranks. For more information on John R. Dale and exhibit information click here.
An Authentic Pennsylvania German Experience
Founded in 1966, HSI is a non-profit educational organization dedicated to the culture and unique history of Schaefferstown and greater southeastern Lebanon County, Pennsylvania. 
The Pennsylvania German and Swiss cultures which flourished here during the last few centuries are authentically presented among several historic sites – the Alexander Schaeffer House and Farm, the Thomas R. Brendle Museum, and the Gemberling-Rex House. 
Throughout the year, our sites host cultural events with all the local, historic flavor you expect. Visit our sites, take part in events, become a member, and discover how you can be a valuable volunteer. Your memorable, authentic Pennsylvania German experience with HSI will last a lifetime. Enjoy your website visit today!