Take a look back in time at our Christkindlmarkt & Tavern Lunch event.
Thanks to everyone who came out to enjoy the Tavern Lunch and who did a little shopping. We appreciate the support and can't wait for next year's event on December 12, 2015!
Click here
to see the photos from the day's events.
---
Archaeological Research at the Schaeffer Farm (Distillery)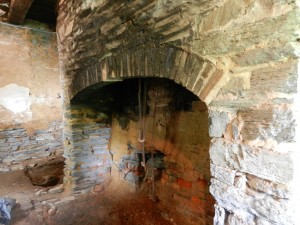 Archaeological research was completed at the Alexander Schaeffer Farm/Distillery site from 2004-2007 & 2010. The five seasons of excavation were made possible through continuous HSI support, grant funding from the Pennsylvania Historical and Museum Commission, and generous private donations. Our research has led to a more accurate interpretation of colonial German farm life during the site's early history.Under the direction of Dr. Patricia Gibble, crew members and volunteers excavated features associated with the production of alcoholic spirits. Archival records show that Alexander Schaeffer, son Henry, and grandson Johannes manufactured whiskey on a seasonal basis at the Farmstead from 1762 to 1807. Two brick and tile firebox bases were found next to the 18th century fireplace in the basement work room of the farmhouse. These features would have held the 50-100 gallon copper stills used to turn fruits and grains into apple whiskey. A three-foot diameter catch basin, located outside an opening in the basement room's southern wall, was used as a settling tank. Between whiskey production episodes, distilling slop and debris was channeled from the distilling room into this brick and limestone- lined feature.
A third important element of the distilling operation was uncovered in 2010. A below-ground water system, consisting of interlocking wooden pipes, was discovered that extended one hundred and sixty-five feet south of the distilling workroom to an existing spring head. Constructed sometime after 1782, this example of colonial Germanic technology conveyed the fresh spring water necessary for alcohol production at the site.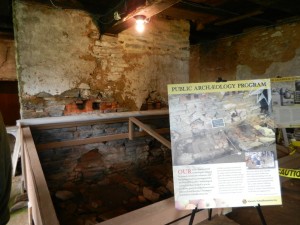 The Farmstead was a domestic location as well as a manufacturing site with the family residence located on the second and third floors of the house. The thousands of artifacts collected during all excavation seasons have allowed important interpretations of farm life during the period that the Schaeffer family resided on the property. These artifacts give us clues to episodes of farmhouse renovation, the diet of early American Germanic settlers, elements of dress, hygiene and health as well as Schaeffer family purchases from local shopkeepers. Comparison of the artifact collection to historic records reveal the role the Schaeffer women played in the colonial farm economy and the domestically-produced commodities they sold to merchants.